Here are your picks for the Best of the April 5th-7th event!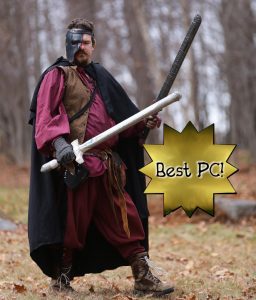 This month's Best PC is a long-time veteran who has always been a great role-player, but really stood out this game. Tom Sadler as Kai seemed to fully step into a leadership position in this strange new area and we got to see him as a commander of a group of people out of their element. Tommy is a help behind the scenes as well, helping to setup when he can and staying to help out as much as he is able. We were impressed with him this game, as were you! Thanks, Tommy!
"Kai was extremely helpful and clarified alot of mechanics for me"

"Kai- Tom did a great job this game, between leading the town in fights and also doing his duty as commander.

Commander Windsaber was on his A game, being a commanding presence and at the vanguard of all major engagements. He also roleplayed extensively: from his makeup, you his voice, to his fake-tinnitus. He is always in character and helping others stay immersed."

"Another standout was Kai. I'd always viewed him as a bit stuffy as leader of the town guard. However, the way he took initiative and settled into his leadership role when it was needed was refreshing and an absolute joy."

"Tom as Helik/Kai. Was interesting seeing this Helik compared to other Helik."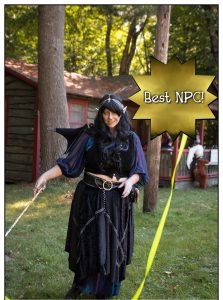 The PELs have spoken! This month's Best NPC ended in a dead tie between Karen Hobbes and Miza Hedley! Karen is an incredible staff member at Magestry. Not only does she work tirelessly to write engaging, thoughtful plots, but she also donates so much of our costuming, helps us to bring our creatures and characters to life, and is a wonderful role-player with an extremely diverse range. We are very lucky to have her on staff.
"Karen!!! Everything about Karen!!!"

"I really love Grrrowl Tiger. She's hilarious."

"Karen is a great addition to the Magestry family, even her crunchy characters are a lot of fun to fight! But the diversity of the roles she plays, geeze!"

"Growwl- Just damn. Karen knocked it out of the park this game."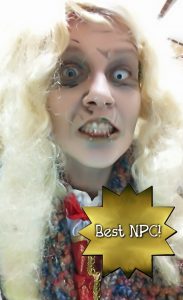 Miza has been on staff for years now, always helping where she can behind the scenes and going out here and there to do some role-playing. However, this event Miza was truly impressive in all the characters she went out to play. We were awed at Briarcliff and are simply stunned at the depth of her role-playing abilities with her other characters! We know you loved seeing her too, and we are excited to see what else she has in store!
Thanks to both ladies and congrats!
"Shoutout to Miza's crazy spider lady who I barely interacted with but the costuming and acting were stunning from the sidelines and she seemed to hook things excellently and spread information (or maybe disinformation?) really well to the players."

"Miza's Briarcliff was a brilliantly played character. She managed to be completely indecipherable, yet amazingly informative. Creepy as hell and yet oddly sympathetic. The movements, makeup and costuming were perfect. Those head twitches and tilts really sold it. That and the two different contacts made it super unsettling."

"Miza who really stepped into all her roles. I was so incredibly happy to see her out so much in game!"

"Madam Briarcliff. So, so well done. Insanity level was off the wall, and it was glorious and beautiful."