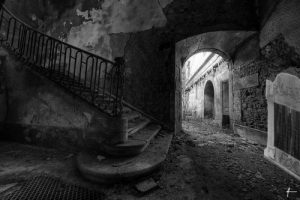 A gruesome scene was found in an alleyway near the Spinster's Sister Inn and Tavern in Riverton on the 11th day of Reapingdusk. A small stage had been erected in the darkened streetway and two bodies were discovered hanging by strings connected to their wrists, ankles, and necks as if they were puppets in a macabre show. Each of these bodies appeared to have been strangled by the ropes around their necks and had been brutally mutilated- a still-tinkling music box placed into a hole in their chests where their hearts should have been. The words "For Mother" were scrawled in black paint on the front of the stage.
One of the bodies has since been identified as Rhence Gelk, a relatively famous circus master from a Tohmshirian Circus that had visited Irvanshire recently. The other is a Septani woman with dark hair in her mid-late twenties. She has not yet been identified.
Anyone with information about these two brutal murders should contact the Town Guard in Riverton as soon as possible.