It was a normal day in my little roadside inn- the Murmuring Monk, at least it seemed like it was going to be, until she walked in. I was cleaning things up from last night's guests and getting ready for the folks that usually come in the morning when I noticed a strange lass walk in- almost like she was lost. She sat next to the hearth, the embers still glowing from the night before, and asked if I could get the fire going again. I thought this strange since it has not been that cold in some time with this strange winter we have had. However, I stoked the fire and tossed on a log, telling her that if she needed more she could help herself. I didn't count on her tossing on 4 more logs. Before long, the fire was roaring, but still the young lass tried to get closer to the fire. I let her be, figuring she would warm soon enough, and went back to my work and started getting the kitchen ready.
When I came back from the kitchen a while later, the young lass was still there, still keeping the fire blazing. I could see steam rising from her cloak, so I decided to get her some hot broth and some warm cider to try and help warm her. As I brought them to her and set them down she whispered, in a haunted voice, "Thank you," her words leaving her seemingly frosted lips in a puff of cold vapor despite the blazing heat in the room.
"Are you ok, lass?" I asked, concerned. She continued to stare into the blazing hearth, like she was trying to burn images in it, and said "There are more tombstones… in the darkness… so many more tombstones." Puzzled, I asked her to explain. Coming out of her reverie, she recounted her tale, short as it was:
"I like graveyards. I find them comforting, you know, and I've heard tales of this one. The Sacred Boneyard of Aegus the Emancipator. It's supposed to be so grand and peaceful and ancient and everything a graveyard should be. So I went in, into the Boneyard. And it's all true. It's wonderful there. I walked around a bit, looking and reflecting on Death and I wandered over to a particularly dark corner of the Boneyard- a place that seemed overgrown. Almost as if the caretaker ha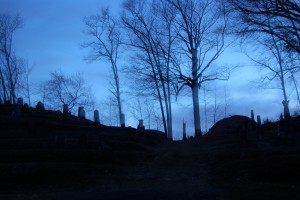 d neglected it for years and Nature had reclaimed it. That's when I saw them- so many fresh graves. Some only holes in the ground- like they were waiting.
Normally it would mean nothing to me: Wars happen all the time and I've seen my share of all kinds of graves- freshly buried, empty, long since covered, but this was different. As I watched, my vision jolted and shifted and a previously empty grave would be filled in. Another jolt and a sense of vertigo and a name would appear on the stone. My vision shifted again and suddenly I was standing in a grave looking up as a young man with a strange haunted visage and pointed ears emptied a shovel full of dirt into my face. Panicked, I scrambled out of the grave and stumbled back towards the Boneyard gate.
As I looked back at those stones, it was like the chill of those graves crept into my very being before they disappeared into the darkness once more. I've had terrible nightmares since then and I cannot seem to get warm." She shivered and sipped her cider. "I feel as though I will never be warm again."
I myself felt chilled, but I told the lass that this area around the Bay had not seen war nor even a battle for years, and that an influx of that many deaths would have brought news to me, at least. Patting her on the shoulder, I tried to comfort her, "It must have been your imagination, lass."
She looked at me distantly and shook her head. "No, sir. It wasn't my imagination. I see them die in my nightmares. I don't even know them. But in my dreams those graves are marked, marked in stone and in spirit, for the fallen heroes of Elmerton." She sipped her cider once more and looked into my eyes for the first time. Visions of gruesome deaths, violent fights, and cold, dark graves filled my mind. Shaken, I broke our gaze and looked away. "I don't even know them," she whispered before falling silent.
I patted her on the shoulder and walked away, needing to do something to keep my mind off this encounter. By the time I had finished mopping the kitchen, she had finished what I had given her and left. She even left a nice tip. By and large, it was a strange way to start the day.
-Recounted by Virgil, Innkeeper at the Murmuring Monk