(An astrally-projected sheet of paper appears on the wall of the Crossworlds Tavern)
OPEN STAGE NIGHT AT THE CROSSWORLDS TAVERN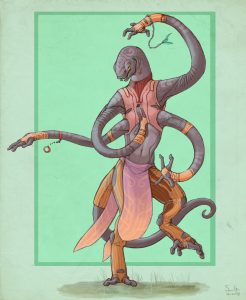 Come one, come all! It's time for the 125th annual, interdimensionally wonderful and incredible Open Stage Night at the Crossworlds Tavern in Marshall's Landing on Magesta! On the 27th evening of Maygrelian, in the 149th year of the Age of Arrival (Standard Magestan time), join us for a night of talent, wonder, and competition!
Are you the best dancer in Pyross? Got pipes that can bust glass from Pitch? Or a sideshow that would OOO and AHHH even the slimiest Greshenthallian? From poets to bards to comedians to magicians – now's your time to share your talents with the entire Dabbleverse.
Dinner will be served and is complimentary to all guests! As always, the TOP prize is 10 gold. Oh my cats – that's amazing!
Come, eat, drink, get famous. Now's your time to shine!