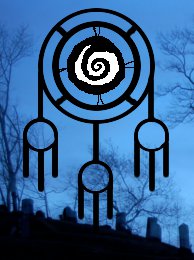 Have you heard the good news? An ancient graveyard on the Northern shores of the Bay of Murmurs called the Sacred Boneyard of Aegus the Emancipator has been consecrated to the Gatekeeper and dedicated to the sanctity and purity of Death. It is a graveyard watched over by powerful spiritual sentinels that insure that once a body is interred, it is able to remain in a state of uninterrupted rest. It is a powerful place unable to be desecrated, where no bodies can be raised and any Necromancers that dare to enter will be stripped of their powers or simply turned to ash. Additionally, it is a place where one can insure that his loved ones buried there will not return to the mortal realm, as Vorkarian will sometimes allow.
Tell me, isn't it worth it to give your loved ones the solace of eternal and lasting peace?
This boon is granted to the kingdom of Irvanshire through the hard work and dedication of Morticent Romaya Hearkin- a loyal and dedicated servant of the rightful Warden of Death.