Here are our picks for the Best of the October 16th-18th event:
This month's Best PC has been an asset to the game since he started NPCing with us a few years ago. However, this event Andy Doucette was truly amazing as Super Rybin vanHolt! We have been impressed with his role-playing ability for a while, but we have truly come to appreciate the hard work and dedication he puts into his character from non-stop note-taking to collecting taxes to stepping up to take charge with Fortune's Vanguard and the new players. We are especially appreciative of his work on keeping the storylines of our various plots cohesive and helping to keep all the players informed. Andy, we are so glad to have you at game. Thanks!
Rybin did a fabulous job this game, he did really great role-playing his winter party skill point prize, and keeping everyone informed about what's going on. He's become an integral part of the town.

Rybin was really awesome acting crazy.

#1 was Rybin. He was such a solid presence, and personally gave me the opportunity to participate in a quest when it may have been tactically better to bring in a more powerful party. He not only involved me, but made sure I got out alive, and allowed me a critical role in a tight spot. That was awesome.

Rybin for great roleplaying of being overjuiced.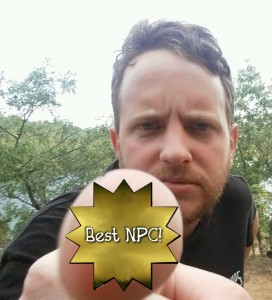 It's not something we have ever done, but we feel as though it is warranted this event: Taking Best NPC for an unprecedented two games in a row is none other than Dave Kopchick! Dave has really worked hard since joining the staff to not only keep us on our toes, but to learn as much as he can about the rules, the previous plots, and all the lore that has been going on at game, as well as writing his own stuff. He busted his butt to get things done before game, showing up hours and hours early, then worked hard all event crunching, making sure plots got out, and keeping up morale, and then stayed late after game to help get things completely cleaned up. He has been a wonderful addition to the team and we are extremely grateful to him for his help. Thanks, Dave!
 Dave K – Great to see him in game, he's a veteran with a lot of skill and always has a smile

I hate to sound like a broken record, but Dave again. [He] continues to stand out from the crowd and does a great job as both serious face characters and as slapstick crunchies (and the occasional slapstick face character and serious crunchy).

Dave continues to amuse me every time he comes down. I think my favorite appearance was when he came down as Dave Kopchick and proceeded to be killed by town. So sad.