This Episode of the Magestream comes to you LIVE from the 2018 Winter Party at Powder Mill Barn! Andy takes control of the mic for the night and you'll hear 60-second player interviews, a live play-by-play commentary of the Boffer Tournament, hear a live Command: Performance by Simon Garren (aka Art Cote), witness Rybin being grilled by in-person inquisitors, and hear the results of Magestry's Best of 2017!
UPDATE: A clerical mistake made at the party itself means that we recorded one of the Superlatives incorrectly on the first version of this episode. Best Role-Player (PC) of 2017 went to Tyler Redzko! Please accept our apologies, Tyler!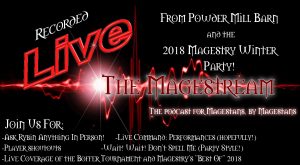 Thank you to everyone who came and supported this year's Winter Party! Thank you to everyone for asking questions for Rybin to answer, to all those who took part in our 60-second player interviews, and Thanks to Simon for his Live Command: Performances. Thanks to Nate and Maria Carr for running the Boffer Tourney and to Mike Kinnally, Anthony LaRosa, and Casey Pastore for their lively commentary. Finally, thanks to all the people behind the scenes who helped out with the party planning including  DJ Moonz for keeping the tunes spinning all night, and Myk Meyer for use of his sound system and to Tonya Mathiason for organizing the Potluck. Thanks again to Sam Rochford for writing our theme music- you can find more of her music at Facebook.com/SamRochfordMusic. And Thank YOU for listening! Bye!
Click and Save to Download Here!
If you would like to submit performances or questions for us to answer or wish to comment or criticize, you can email us at [email protected].