Here are our picks for the August 26th-28th event:
This month's Best PC has been an integral part of the game and a stand-up member of our community since the beginning. Myk Meyer as Jack Garren has not only been a wonderful role-player and a model PC, but he has also been a warm and welcoming presence for new players and has worked to help maintain the friendly player base we are so proud of these days. On top of that, he always makes sure to come and help out NPCing whenever he can. Thanks, Myk, for all you do for the game and congrats!
I had a great time RPing with Jack Garren. He was quick to talk to many of the new players, and he's eccentric but enjoyable to be around. I even had a chance to witness some of his deeper character traits.

Jack is another who is always on his A-game. Roleplaying his own particular brand of crazy, and always engaging newer players, the Elmerton just wouldn't be the same without him.

A lot of the new pc's were very fun to interact with and meet, but Jack really takes the prize this time. He really went out of his way to "recruit" many of the newer players.

I really like Jack. He is so good at RP that I actually thought he was upset OOG and had to ask him about it. He also goes out of his way to make new players feel comfortable and takes time to answer their questions about the land and important people of Elmerton.

Jack is always hilarious but seeing a dark-side of him was sobering. Great roleplaying

Jack– he was fantastic in his role-playing, and really engaged the new characters right from the start. I pretty much feel obligated to help him rise to royalty.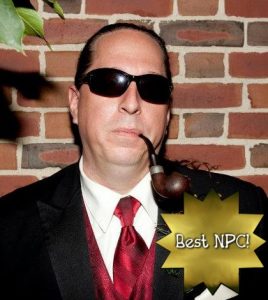 This month's Best NPC is a very new addition to the game who really saved our butts and your dinners this game! While Wilhelm was feeling under the weather, Steve Koval really stepped up to help out and make all those burgers and dogs for you hungry folks! On top of that, he was ready to help out wherever he could including playing crunchy roles or whatever else needed to be done. We are impressed with his abilities and extremely glad to have him at game! Thanks so much for all your help, Steve!