Never did I imagine I would put the following words to paper: Morkanthos, the Incarnation of Pestilence and near-eternal adversary to the Fellowship of Gwendolar, did the right thing.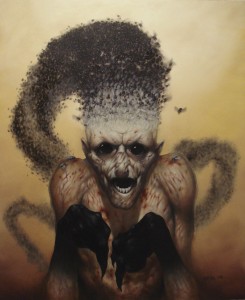 The Vampire Queen, Amphelise, approached Morkanthos and asked for his allegiance. Who knows why he turned it down? I have to assume it was something like pride or arrogance or jealousy or another equally petty compulsion that caused him to rebuff her advances. Regardless of the reason, he did decline and the Queen…well, the word is, she assaulted the minor incarnation, murdered no small number of his followers, placed him in some sort of stasis, and simply left.
Now, the Fellowship is no longer the passive organization it once was. We keep track of our enemies and I can say with surety: this actually happened. And because of it, the Knights of Nocturne are gone. Perhaps they are in hiding? Perhaps, without their lord, they have disbanded? I can't say for sure. But I do know that no one has seen nor heard from them since. They have all but disappeared.
What I do know is that Amphelise also approached Gwendolar and was similarly turned away. I don't know if she tried to attack The Lady or not. While I'm sure Amphelise felt insulted, testing her abilities against a Major Incarnation would certainly have been foolish – so maybe she thought wiser of it.
What's my point? Anyone reading this now remembers Morkanthos before he took the mantle of Pestilence. But how can many recall that just a century ago, Gwendolar was a goddess before she was Nature? Amphelise has been spotted all the way over in Swardia. For the sake of those who believe Rael is still alive, I hope she didn't find what she was looking for in those mountains (the irony of a vampire searching out a sun deity is not lost on me).
Irvanshire, I believe Ampehlise is seeking out the old gods of Magesta. I don't know what her angle is or why they are important to her. I just know that she must not be allowed to get what she wants.
– Revered Master Picco Wryn, Agent of Nature