To Denizens of the Fiddlehead hills, Elmerton, Raldo's Refuge, and points between:
Be on the lookout for an extremely dangerous magic user who has escaped Concori Magesti's attempt to subdue him.  His name is Silas Stonecipher, formerly of Concori Magesti, Irvanshire, who has now been expelled from their ranks.  According to a high ranking Guildsman, Silas was previously wanted for questioning about his research into dangerous magic, and was an accomplished theorist who has delved too deeply into forbidden knowledge.  He was traced through the use of stolen ritual components to a series of caves outside of Elmerton, where the mages sent to subdue him found evidence of extensive human sacrifice and what appears to be a form of void energy in an attempt to harvest spiritual matter for no doubt nefarious purposes.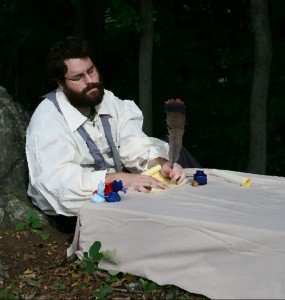 Stonecipher is heavyset and bearded, and should be considered extremely dangerous. DO NOT attempt to engage him directly.  Even if he was to be killed, his unorthodox and profoundly perverted usage of spiritual magic may allow him to operate without the use of his body.  Contact Concori Magesti, and they will send specially trained mages to incapacitate and bring him to justice. A 15 gold reward is to be split amongst anyone who is able to provide information leading to his capture.
Please do your best to assist Concori Magesti Investigators who will be searching the countryside for Stonecipher, in a joint effort with the Portal Authority, who will be monitoring any unusual dimensional activity in the region.