Here are our picks for the Best of the September 25th-27th event:
This month's Best PC is one of the sweetest people we know and we have recently started to see her shine both IG and out. Whether Steph Lindquist is taking on the job of Setup Coordinator before game or Linarien is standing up to Carzon (even if it means going on a crazy emotional roller coaster ride), Steph has stepped up her game to levels we have just not seen from her before, and we are thrilled and extremely grateful to have her at Magestry. This season would have been much more stressful without her and the game, in-game and out, would have suffered without her here. Thanks so much, Steph! We really appreciate it!
"Linarien did a great job of keeping an eye on what was going on in town stepping into the spotlight to lead when necessary."

"Linarien isn't always noticed, but she has gotten increasingly faster and stealthier. Her role-playing has also evolved and Linarien is coming into fruition. She was really getting in there and fighting for what she believed in and for the good of the town."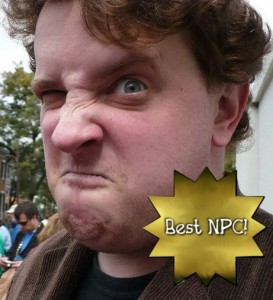 Our Best NPC for this month was truly a lifesaver this event. Did you interact with people in the Broch? Did you find little interactions you could do with another PC throughout the Tourney Field? How 'bout them components? Yup! Almost all of that was done this event by Dave Kopchick. Dave just recently joined staff and has been a breath of fresh air behind the scenes. He is so full of positive energy and unrelenting enthusiasm that he really energizes the staff and helps us to stay motivated and ready to go. We are so very glad to have him back at game and happier than we can say that he joined the staff. Thanks so much, Dave!
"Dave K. did an amazing job this event no matter what he was out as he put in 100 percent. I'm really glad to see him back. Whether he was out crunching or out talking to the town we had great interactions with him."

"My favorite NPC this game has to be Dave Kopchick. He's a great guy to have around, and really shines when it's time to goblin."